Add another butterfly fairy to your collection.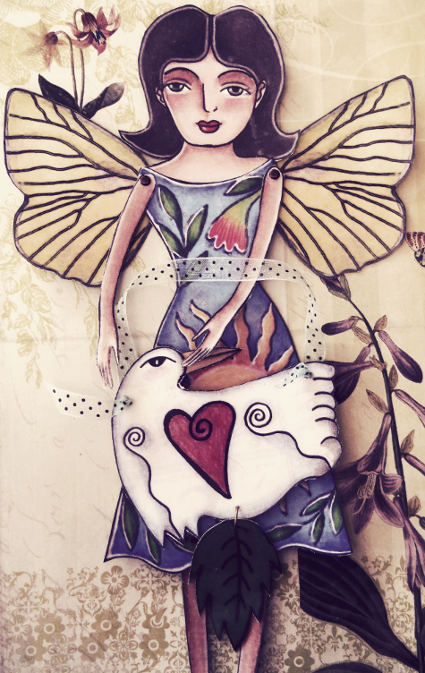 The complete instructions are available Here
Here is a quick tutorial on how I put the doll together:
PICTURE TO FOLLOW
Print out the 1st 2 pages. My paper dolls are created so that you do not have to print the whole PDF. Cut out the dress at the neckline and glue it to the neck, just like in the picture.
PICTURE TO FOLLOW
Glue the pieces to double-sided scrapbook paper. For a sturdy water resistant (read: ink won't smear) cover with clear matte contact paper. The translucent works just as well. So will laminate sheets. The contact paper is less expensive.
Allow flattening under a smooth heavy object. I place the glued and laminated doll inside the paper folder And then put a heavy object over the whole thing so that it doesn't leave marks. I live in the desert so it takes A short time to dry. 15 mins to dry and flatten is good enough, overnight is best for a sturdy doll and makes it easier to cut.
PICTURE TO FOLLOW
Cut out all the pieces. Punch the holes. In the paper doll instructions I explain a little how to line up the holes and brads and finish the doll.
Your complete doll will be sturdy, not waterproof, but the ink will not smear, And you will have a nice gift or decoration or be inspired to make it your own.
You can use the dress as a pattern and trace scrapbook paper of your choice, or download some of the beautiful printables available.
Here are a few of my favorites from Etsy:
-
Grepic:
Textured papers, nice gradients and Aztec prints.
-
blossom paper art:
Beautiful small scale prints, perfect for a paper-doll dress.
PICTURE TO FOLLOW
You can do this! The pieces are easy to handle, the pages are designed to print bright and clear on any printer. No additional software is required, and I am available to help. I look forward to seeing what you decide to create!